Kemper Champion 4500 [1/32]
Kemper Champion 4500 [1/32]
Introduction
The scale model manufacturers are, these last years, intensified their production and today we have a wide range of forage harvester in 1/32 scale. Unfortunately it doesn't exist the most popular 6 rows header; the Kemper Champion 4500.
Building
I want to make a header that can fit on many forage harvester, to be the most realist it would be a red machine (yellow version is for the John Deere forage harvester).
Because of the complexity of many parts and their redundancy, I will use the resin casting method.
So I made pieces to create silicon casting forms for these parts:
| | | |
| --- | --- | --- |
| -Big drums | -Big drums's knifes | -Little drums |
| -Lateral helicoil | -External divider | -Internal divider |
| -Lateral helicoil driving housing | -Feeding drums | -Feeding drums driving housing |
Unfortunately I didn't take photo during the building but here is a preview just before painting.
You can see that the hoods are made in styrene. The Kemper is foldable with 2 hydraulic cylinders. They are not in the same position than the real machine but I don't have any space to put it. However they are essential to maintain the kemper in fold position.
I like the result, the header fits on most of my forage harvester; I'm going to paint it now!
And here is the final result.
It's good but I'm not enjoying it, the model is coarse and some details is missing. I will restart many parts.
Here is the new version: 54 new pieces cast in resin, the rest will be made in styrene.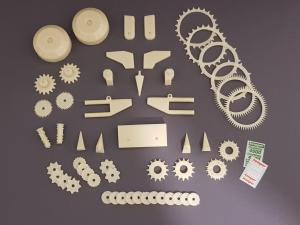 This is the mounted baby, painting remains.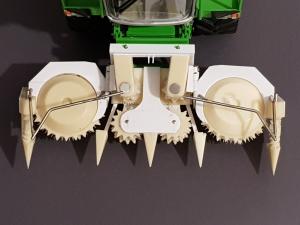 Thank you to follow this topic, I hope you enjoy this model !
Don't hesitate to leave your comments, remarks or questions.