Deutz-Fahr Gigant 400 [1/32]
Deutz-Fahr Gigant 400 [1/32]
Introduction
I will show you my first 100% hand-built model at 1/32 scale.
When we are talking about forage harvester, we are thinking about big manufacturers like Claas, John Deere or New Holland. Some people, more nostalgic, will remember Hesston or Mengele that marked their time.
But do you know that among these big manufacturers, Deutz-Fahr has try to commercialize a big power forage harvester with the Gigant 400.
You can see, it's a big template. As I appreciate atypical machine, why don't make it in 1/32?
There are 2 different versions of this machine, one you can see it on these picture and an other older with circular cab lights. It's these version that I will make, I prefer his look !
Building
I can't use any base model, except the pick-up header. It's the same as a John Deere, so the Siku header will be useful.
I had to base me on the rare pictures on the web and on the brochure that I own.
Unfortunately, I didn't take photos during the manufacturing, here you are some pictures just before painting.
Here you can see the front attachment raising system; in opposition that we see nowadays, the feeding drums are motionless, it's the header fixed on a frame that move in front of the machine's entrance.
The wheels shown here are provisional.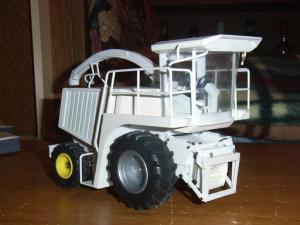 A picture with the grass header, it is a Siku John Deere without the grass bar and a modified attachment.
I changed the header's wheels linking system, now they can turn freely.
These header is in zamak and it is too heavy for the machine, I had to ballast the forage harvester with a big metal part under the hoods, at the top of the rear axle.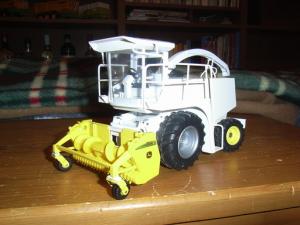 You can see here some photo with the Kemper (an other scale model by me, show here), waiting for painting too.
The model have directional rear wheels, the rear axle is on a pendulum.
The header lifting is working as well as all pipe's joints (raising, rotating and deflector's position).
The monster is ready to paint. I choose an original Deutz-Fahr aerosol paint.

Thank you to follow this topic, I hope you enjoy this model !
Don't hesitate to leave your comments, remarks or questions.