Claas Jaguar 900 [1/32]
Building
I began by cutting the chopper block to make it mobile and able to raise and lower the frontal tools. For these crop heads, I standardized their hitch system.
The front tires were changed to Artisan32 low pressure tires and I changed the beacons (flashing lights from a Big X Universal Hobbies).
I also built a functional pipe's deflector.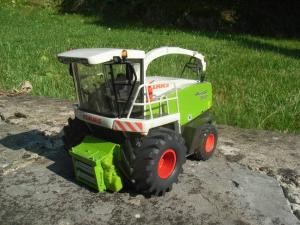 For crop heads I modified a Pu380 pickup from Norscott into a Pu300Hd, I also got a cutbar of Big X Universal Hobbies and I mounted it on a frame for the Claas. I modified a Claas Tucano wheat cut so that it fits to the forage harvester. I also built a Direct Disc 520 Grass Cutter and a Claas Hs-2 Plant Harvesting Head. Finally I modified a triple mower Claas Disco to turn the Jaguar into a selfpropelled mower.
Update 2021:
The miniature was built few years ago, i would like to change it so let's go to work. I will change front wheels and rear for un personal design (3D printed). I will adapt a functionnal rear axle. I will put more realistic feeding drums. The pipe will be enlarged, pivot and deflector will be replaced. I'm going to make a new painted for the lower frame in original claas colour.

Thank you to follow this topic, I hope you enjoy this model !
Don't hesitate to leave your comments, remarks or questions.