Claas Hs 2
Introduction
Pour la récolte de saule, Claas à développé il y a quelques années une tête de récolte spécialisée pour ses ensileuse, le bec Hs 2. Cet équipement permet le hachage des plantes entières destinées à la biomasse et à la prodction d'énergie.
La tête peut être adaptée au Jaguar de la série 800 et 900 bien que j'ai pu appercevoir quelques Jaguar 600 équipée. Il ne devrait d'ailleurs pas avoir de problèmes pour un montage sur une Jaguar de toute dernière génération.
J'avais déja réalisé une tête de ce type il y a quelques années pour ma jaguar 900 (visible ici) mais il n'étais pas très détaillé. Comme c'est une machine qui me plait bien je vais donc la recommencer. Je pense la remettre sur la Jaguar 900 a laquelle je vais retirer les pneus basse pression.
Fabrication
Je commence par fabriquer toute la carcasse, ce sont des formes assez simple et anguleuses,
Ensuite fabrication des éléments des rotors avec les "doigts" d'alimentation et les scies. J'ai aussi fait le déflecteur qui vient juste au dessus du canal d'alimentation.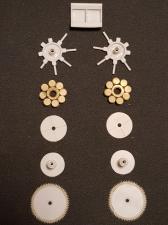 Voici un petit apperçu de ce que ca donne. Les vis latérales sont faites, les rotors sont montés et le diviseur central également. On peut voir que j'ai commencé le rabatteur; c'est la grande poutre au dessus, il est articulé et fonctionnel. La tôle déflectrice du canal se relève et s'abaisse avec lui avec un système de tringle.
J'ai également fait les bequilles rétractables.
J'ai ensuite finalisé le rabatteur avec une simple tige courbée. La tringle qui joint la tôle au rabatteur à été changée pour une plus réaliste (sur le modèle réel c'est en fait un ressort). J'ai collé deux très fines toles sur le bec pour simuler les trappes d'accès de part et d'autre du canal d'alimentation. Les grands diviseurs latéraux ont été fait et la machine est prête à être peinte.
Une photo de tout les éléments peint, juste avant remontage.

Thank you to follow this topic, I hope you enjoy this model !
Don't hesitate to leave your comments, remarks or questions.